Have you tried any of the great products that come with roller balls? I love the ease of application, especially for on the go.

In the case of transforming one of my other favorite EO's into an easy on the go asset I struggled with getting the roller ball incerted. Then, needless to say, I read over the instructions and was able to get the roller ball attached with just a small amount of effort. From various calls I have gotten in the past I am not alone. I know several ladies have lost some, or all, of the oil in the bottle when the roller ball fell out. When I was visiting with our daughter, Brandie Lawrence,  she told me that she has had so many calls on how to get the roller ball incerted that she now demonstrates how at the beginning of her classes. She said it works great with new people because she asks them if they have one they want incerted and she opens the bottle, removes the incert, places the roller fitment on the bottle and applies enough pressure to keep it there, then puts the black lid over the bottle and screws it all the way down. So far it has worked every time. If you are not sure it is secure simply remove the top and check for yourself that the fitment is secure and in place.
I think it is a great idea for us to help demo how to insert the roller ball and just a quick FYI for those of us who have had some issues with them, I remember, Brandie telling me her husband had to put the first one in for her too.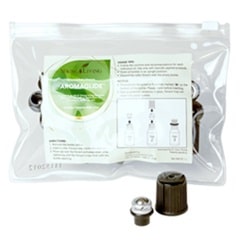 Transform any of your favorite Young Living essential oils into an easy-to-use roll-on bottle with the patents pending AromaGlide™ advanced roller fitments technology. Each fitment is customized to fit a 5- or 15-ml bottle with an "Sb" marking on the bottom.